Think Tank - funds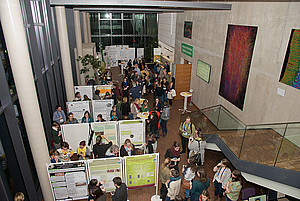 As an interdisciplinary research platform, the ScienceCampus emphasises the importance of networking within the scientific community and the conceptual development of research fields.
For this purpose, Think tank - funding is available to support collaborations with international colleagues and are supposed to address interdisciplinary, conceptual approaches. Guests can be invited to spend up to a week in Göttingen to work jointly with members of the ScienceCampus on interdisciplinary, conceptual approaches. Think tank events are expected to foster work at the theoretical level, and to result in the publication of review or opinion papers. Think tank workshops can either be organized as closed meetings, or can be made open to a broad scientific audience.
Funding can be used in accordance with the guidelines of the Leibniz Association to cover travel and accomodation costs for participants and the organization of the workshop.
To apply for funding, applicants use the application form to submit a proposal and a spending plan to the ScienceCampus Coordination Office. Applications can be submitted electronically.
Please note that no applications are currently accepted.
last update on July 2nd, 2018