Courses and Workshops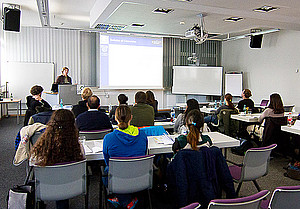 The Leibniz-ScienceCampus offers for its members courses and workshops on specific methodological approaches as well as general, transferable skills. In the first line, the target audience are the PhD candidates and junior postdocs of the ScienceCampus. Feedback and suggestions by the members of the ScienceCampus are welcomed.
Data Analysis Workshop
Lecturer: Rick Scavetta
Course content: This workshop offers an introduction into data analysis with the software package R. Previous experience with the program is not required. The participants are asked to bring their own laptops and data sets. During the practical parts of the course, participants have the opportunity to work with their own datasets on own questions and problems.
During the course, basic statistical procedures will be applied and data visualizations will be produced, but note that this course is not an Introduction to Statistical Analysis course.
Further information on the course can be found here.
Target group: Early to intermediate-stage PhD students who have data they can work with in the workshop
Date: May 30 - June 01 2018, 9 a.m. - 5 p.m.
Venue: German Primate Center, seminar room E0.14
max. Number of participants: 12
Registration period: April 1 - April 30, 2018; registration by email to Christian Schloegl
Registration
Registration is possible for members of the ScienceCampus until registration deadline. Places are provided upon a first come - first served basis. Potentially remaining places can be used by non-members from Göttingen and are again provided on a first come - first served basis. Interested persons from outside Göttingen are asked to contact us in time.