Courses and Workshops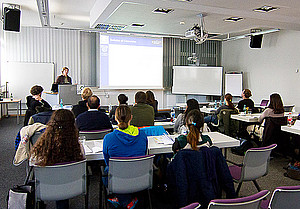 The Leibniz-ScienceCampus offers for its members courses and workshops on specific methodological approaches as well as general, transferable skills. In the first line, the target audience are the PhD candidates and junior postdocs of the ScienceCampus. Feedback and suggestions by the members of the ScienceCampus are welcomed.
Using formr.org to build complex R-driven online studies with personalised feedback
in cooperation with the Biological Personality Psychology Group, University of Göttingen
Lecturer: Ruben C. Arslan (Max Planck Institute for Human Development, Berlin)
Course content: Formr.org is a free open source software for online studies. Because R can be called at any step from formr, all sorts of complex study designs are possible. Key features include the automatization of reminders for repeated surveys on computers and smartphones and the automatic generation of personalised graphical feedback.
In the workshop, we will learn workflows for collaboratively designing, testing, debugging, managing, and documenting studies. We can discuss how to design simple surveys, longitudinal studies, experience sampling or diary studies, dyadic and social network designs, peer ratings, and reaction time data. If there's interest, we can choose to discuss connecting to external data collection platforms, using jsPsych to collect reaction time and experimental data, and designing adaptive cognitive tests in formr.
On the first day, we will learn how to design studies in formr, starting simple, and then proceeding to debugging and managing more complex studies. You will learn how to manage contact with your participants and to navigate thorny issues around privacy and anonymity while maintaining contact with participants. In the late afternoon, I will assist you in implementing existing or planned projects.
On the second day, we will focus on getting your data from formr into R using the formr and codebook R packages. You can also learn how to easily make reproducible websites using R to document your study analyses and share results with co-authors. In this part, you will need to make baby steps using the tools RStudio, Github, and the Open Science Framework.
Requirements: Anyone who is planning an online study can participate in this workshop. The entire workshop is held in English. Basic knowledge of R is helpful, but not required at all. You don't need to use R for analysing the data collected using formr. We won't discuss the basics of survey and item design.
Target group: PhD students and Postdocs who are planning or currently implementing an online study
Date: September 24th - 25th 2018, 9 a.m. - 5 p.m.
Venue: Georg-Elias-Müller-Institute of Psychology (GEMI), Gosslerstrasse 14, room 1.136
max. Number of participants: 20
Registration period: until August 31, 2018; registration by email to ws_formr(at)dpz.eu
Registration
Registration is possible for members of the ScienceCampus until registration deadline. Places are provided upon a first come - first served basis. Potentially remaining places can be used by non-members from Göttingen and are again provided on a first come - first served basis. Interested persons from outside Göttingen are asked to contact us in time.